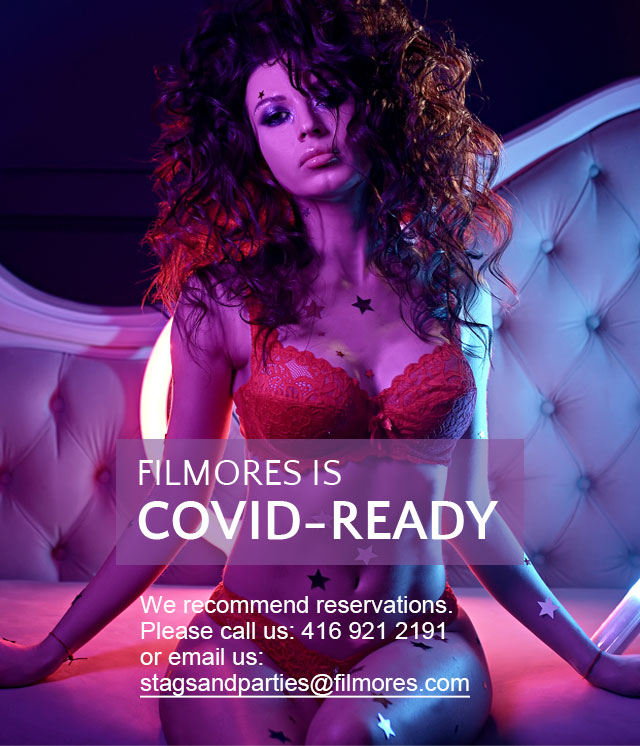 Home Base
This is Canada's ULTIMATE Gentlemen's Club. Featuring the world's sexiest girls & hottest stage shows. Conveniently located just minutes from major sporting venues, all downtown hotels, convention, and trade centres. At Filmores, our BAD GIRLS make for a good time.
Choose one of Filmores new Steamy Wallpapers. Any of our gorgeous ladies would love to be on your desktop. It is one of their favourite positions.

The Players Lounge is our exclusive VIP area. The BAD GIRLS here take you places you have never been before. More
Naughty Talk
Our BAD GIRLS would love to have an intimate chat with you.
Read below, our BAD GIRLS share some of their private conversations with our customers.
Lana

You wanted to know if I just fell from Heaven? Yes I did, but I'm no angel sweetie.

Kim

Do you believe in love at first sight? Not sure? Wait, I'll walk by again!

Cheri

Some say the glass is 1/2 full or it's 1/2 empty. I say, are you going to drink that?

Miranda

Want some company? Let's flip a coin. Heads your mine, tails I'm yours.

Hannah

Do you find my leather clothes distracting? Not to worry, I can take them off.

Star Baby

My feet are killing me, do you mind if I sit down on your lap, for just a minute?
"You haven't spoken to your girl
in weeks... you didn't want to interrupt her.
Come interrupt me."
Players Lounge
The Players Lounge is our steamy VIP area where the temperature isn't the only thing rising. The Private and Group booths have BAD GIRLS waiting in heated anticipation. Add to the experience with Filmores' Bottle Service.
"Thanks, but I'm
much hotter
when I'm with a Player."
Apparel
Look hot, sexy and fashionable. Filmores offers cool T-Shirts, caps and more.
Come on down to the club and grab something!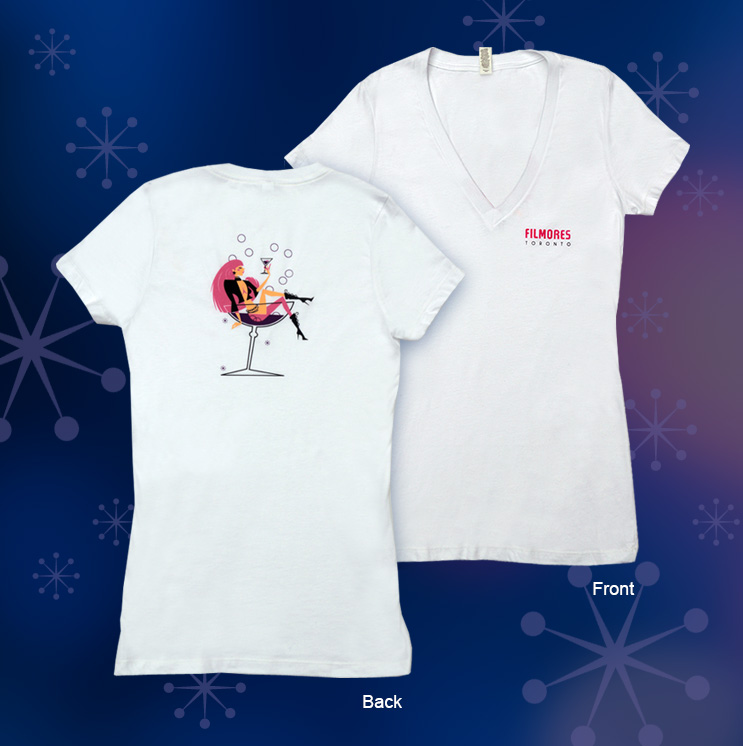 20
Baby-T
(Black or White)
This ladies V-Neck Baby T will have everyone oogling your gorgeous curves. Put on one of these Baby T's & get out there and bump & grind like you own it!
Avail in Black (65 polyester/35 cotton for temp control) or White (100% cotton).
Sizes: S, M
*plus applicable taxes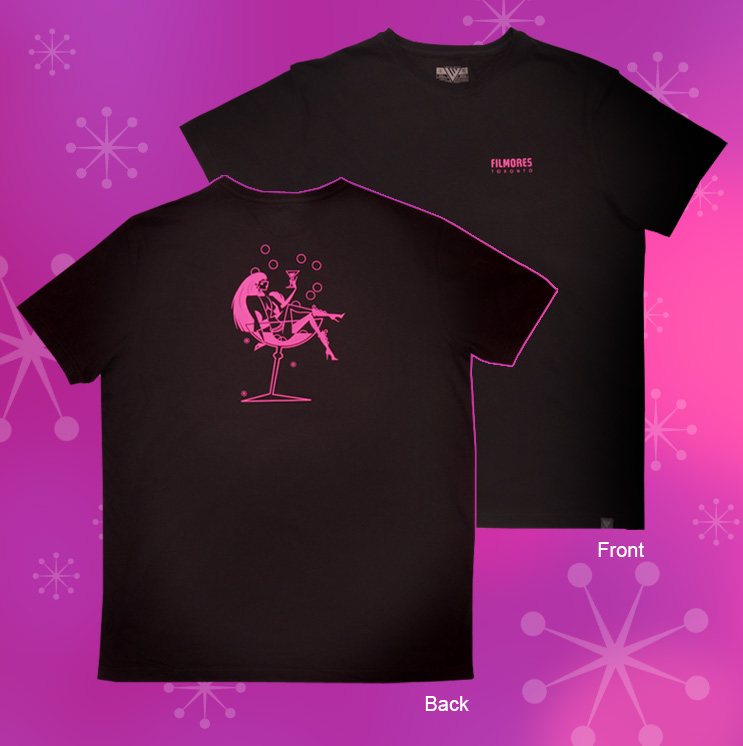 25
Black T
Filmores 'cool' to the nth degree. The Iconic Black crewneck T, wear it proudly with our name on the front & our retro logo in back.
Top quality Levelwear blend of 60% Cotton 40% polyester for temp control & longevity.
Avail in Men's M, L or XL.
*plus applicable taxes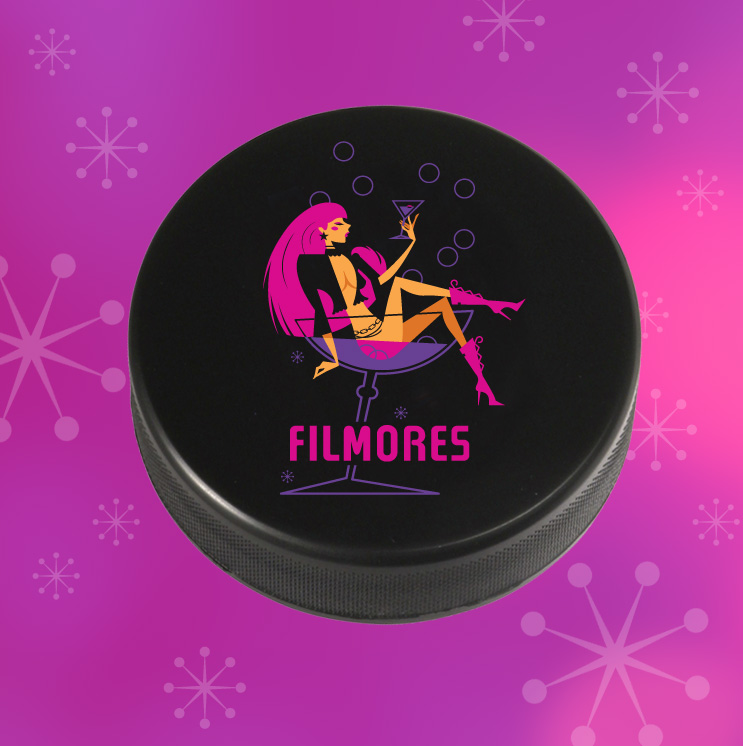 5
or 10/$40
Filmores Hockey Puck
"He Shoots … He Scores"!
With these Filmores Logo'd regulation size hockey pucks, you'll always score on & off the ice.
*plus applicable taxes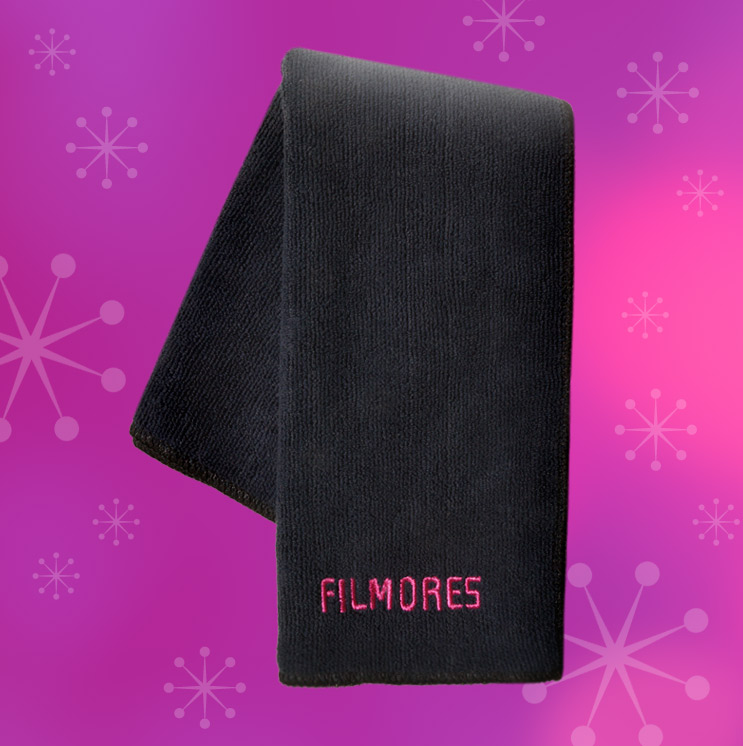 15
Filmores Towel
(Black)
Whether while lap dancing for you or baring it all on stage, our dancers love these compact (20 x 20) microfibre towels.
We hear they are also great on your golf bag, for the gym, car or boat.
*plus applicable taxes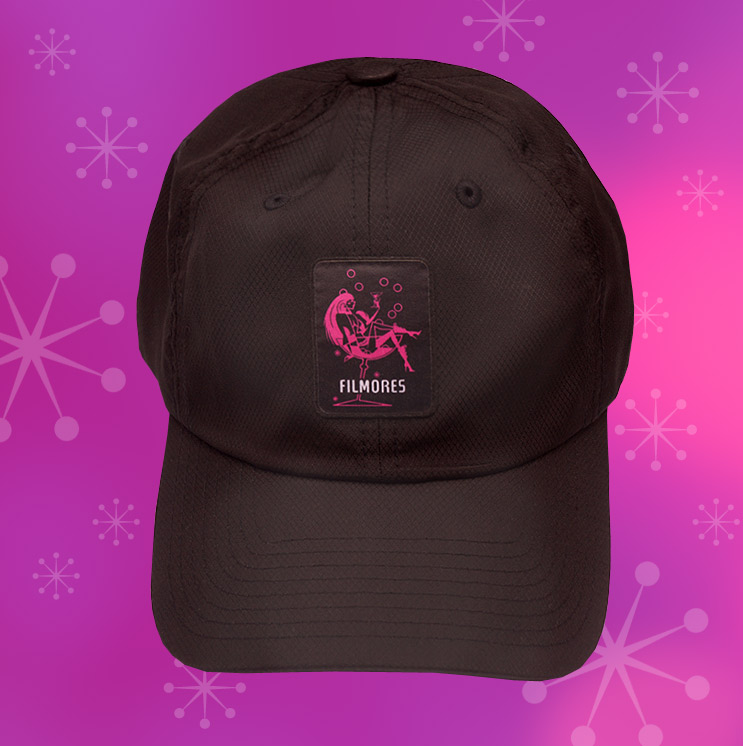 20
Baseball Cap
(Black)
Pledge your allegiance to the Filmores Team with our subtly cool logo'd black baseball cap.
Flex Fit fitted with a Velcro back, this 100% polyester hat is lightweight to keep you cool even when the temperature is rising (inside or out).
*plus applicable taxes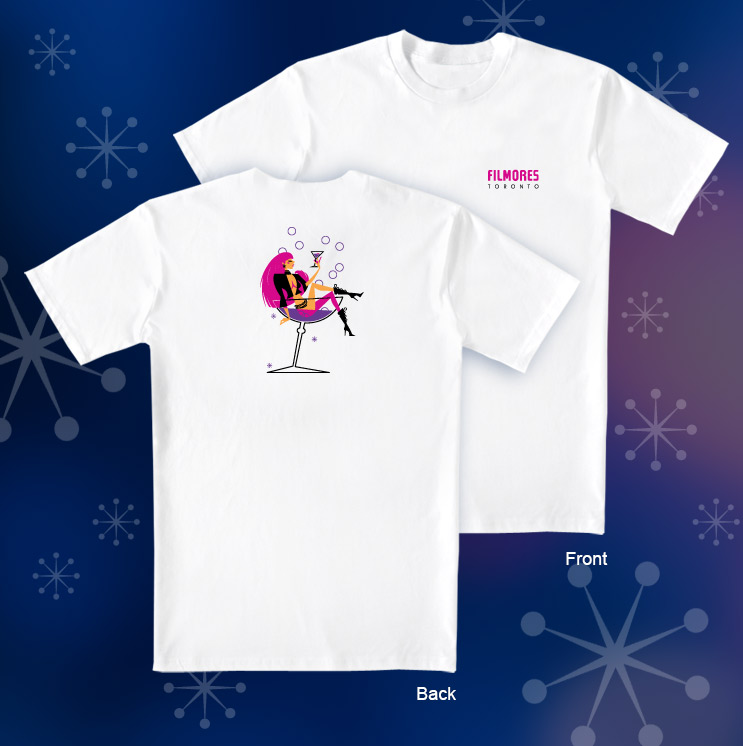 25
White T
A Classic! White crewneck T, wear it proudly with our name on the front & our 4 colour retro logo in back.
Pair it with faded jeans & even the hottest Feature won't be able to stay away! Top quality Levelwear 100% Cotton.
Avail in Men's XL only.
*plus applicable taxes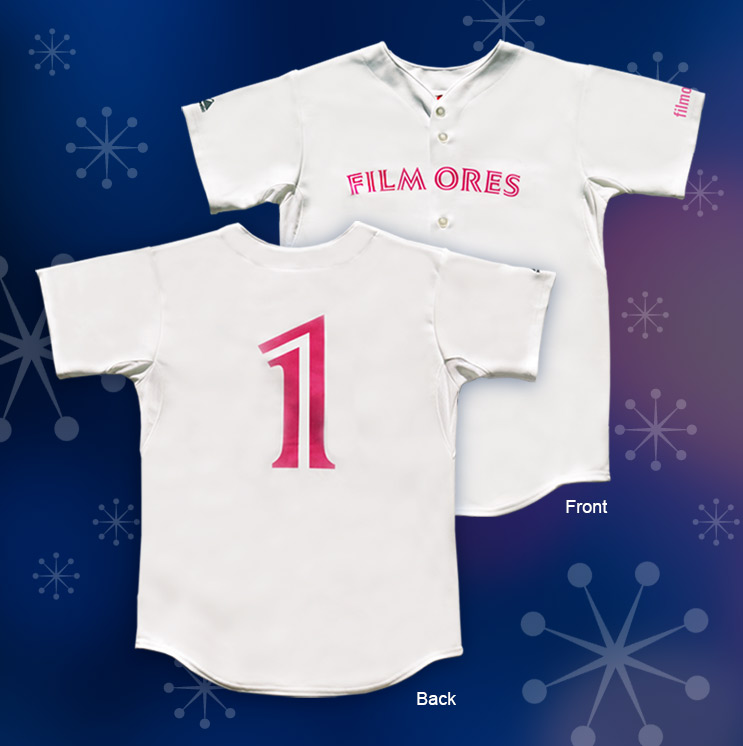 40
Baseball Jersey
(White)
When you play on Team Filmores, you are the Hottest prospect!
Majestic® 100% polyester Machine washable.
*plus applicable taxes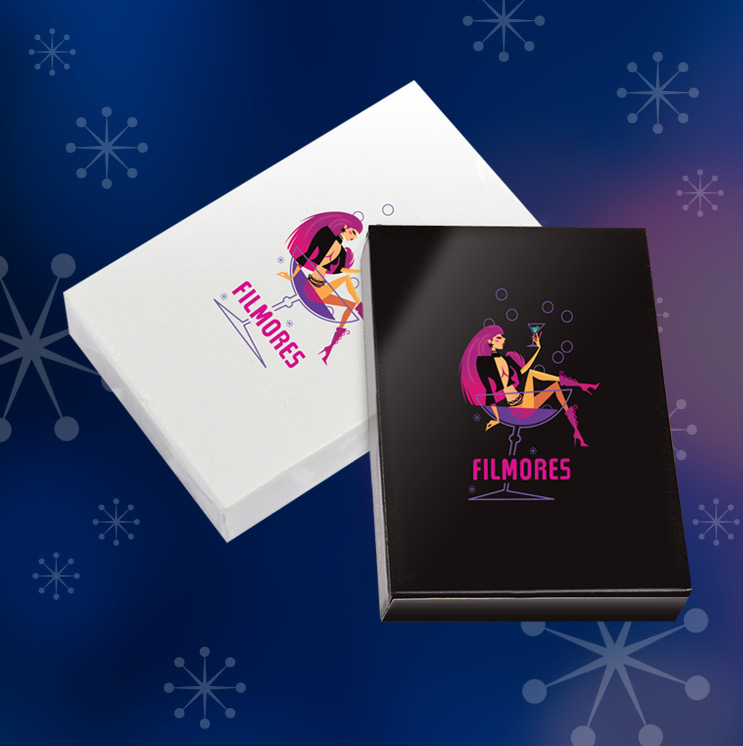 10
Playing Cards
(Black or White)
Whatever your game, Stud, Hold'Em, or Strip Poker, you'll be 'All In' & holding a winning hand when you play with Filmores Playing Cards.
Avail in Black or White so get both & keep the game going all night long!
*plus applicable taxes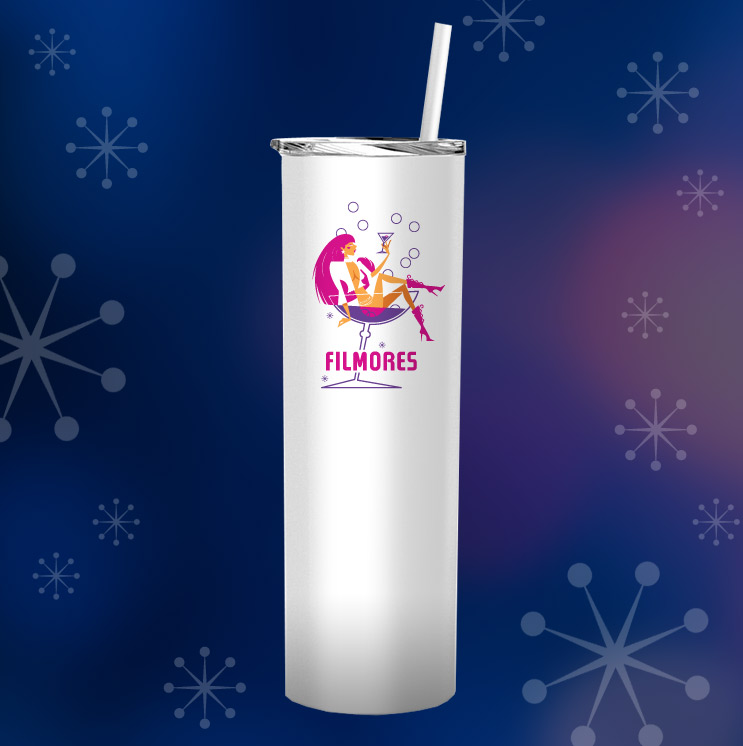 10
Travel Cup
(Hot / Cold)
Keep things hot … or keep your drink cold while things are heating up!
Either way, this classic white logo'd beverage traveler will draw attention & keep you in the mix.
Bottoms Up!
*plus applicable taxes
All items may be purchased in person at the club, by email: shop@filmores.com or
by phone at 416 921 2191.
"I don't play hard to get.
I play hard to forget."
Location
We are just a short cab ride from the Air Canada Centre, the Rogers Centre, the Metro Toronto Convention Centre and all major downtown Hotels. Every Toronto cab driver knows our location.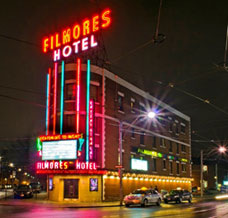 OUR ADDRESS: 212 Dundas Street East, Toronto, Ontario M5A 1Z6
TELEPHONE: 416-921-2191
CLUB HOURS: Monday thru Saturday: 4pm - 2am, Sunday 5pm - 2am
TTC accessible via streetcar 502 Dundas St.
Wallpaper
And what is it that you spend most of your conscious life looking at? Is it your car? Is it your significant other? Or is it your pet? NO, NO and NO! It's the WALLPAPER on your computer or cell phone. Choose one of our lovely ladies to be your mobile companion. They all are available and FREE.
Click on your screen size/product to download
Wallpapers greyed out are not appropriate for your device.